Prashanth Jhala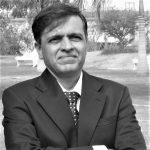 Advocate Prashant Jhala is one of the foremost experts and a name to reckon with amongst the Legal Fraternity working in the niche areas of Cyber Law and Cyber Crimes.
Advocate Jhala is One of the most sought after subject matter experts in National and International circles related to the legal framework of Cyber laws and Crimes, across both Govt bodies and corporate alike.
He is an eminent speaker and an effective trainer who has delivered key note's at various forums/events and trained audience comprising of Board Members, Senior IPS officers and Banking Professionals, Bureaucrats, Educationalists and Students.
He works for the cause of Cyber Safety and Awareness, especially amongst the youth and parent community and had delivered various awareness sessions at large Universities, Colleges and Institutes.
Advocate Jhala has also AUTHORED a book by the name-LAW OF CYBER SPACE that deals with the Indian Perspective of the INFORMATION TECHNOLOGY ACT. Besides, he has also mentored and provided guidance to co-authors on compilation of their works.
He is currently the Co-Founder/Partner at Indian Cyber Lawyers and Founder at Indian Cyber Institute and is the Director at Cognizance Education Pvt Ltd that specializes in Cyber Education and Training.