Richard Prakash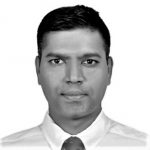 Commander Richard is a retired officer with the Western Naval command who is a dual specialist in communications and CRBN Defense with proven expertise in areas of Electronic Warfare, Intelligence Accumulation, Cryptography, Satellite Communications, Jammer Programming, and Strategy.
He is credited with the Ideation and steering the proof of concept of Live Target Data Streaming from the sea over Satellite Communication for activating shore-based aircraft strike on the target at sea, the 1st ever such attempt in INDIAN NAVY.
A Certified General Management Professional from IIM-Lucknow, Commander Richard is an Accomplished Leader at Operational Excellence & Governance with Strong drive and emphasis on Ethics.