Sivaram Tadepalli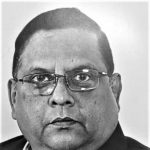 Sivaram Tadepalli is an industry veteran and one of the most respected leaders from the CIO fraternity with over 4 decades of rich, multi-industry experience across critical domains such as Banking, Defence and Aviation.
Sivaram Tadepalli is an immensely successful leader with the proven expertize to introduce new technology interventions at optimal cost to derive operational excellence for overall organizational strategic success.
Sivaram is a master hand at stitching the various aspects of a large IT projects implementation such as Team Building, Negotiations, Vendor management, Delivery management, Resource Management, yet finely balancing the critical elements of Risk Management and Smooth Integration.