Sai krishna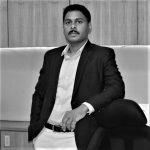 Sai Krishna is an exemplary leader with a unique blend of expertise spread across the overall eco system of ICT domain. His subject matter expertise includes an enviably comprehensive list of Deep Tech areas such as Cyber Security, IoT, Telecom and Internet.
Over his 18+ years of celebrated corporate stint in leading MNCs like Tata,Reliance,Wipro, Sai is credited with the ideation and launch of many successful product startups and innovative business models across the Enterprise Business domain, inclusive of Country's First Enterprise Messaging Platform.
With the gifted ability to perfectly blend the right mix of Business Strategy, Innovation, Cutting Edge Technologies , Sai Krishna has perfected the art of growth hacking and has successfully mentored disruptive start up's in emerging technologies like IOT, Telecom, Fintech ,Infosec etc in scaling up to the next level.
He has been a pioneer in terms of championing the cause of Innovation and Creativity in the Technology domain and Sai was a founding member of a disruptive Cyber Security startup Cognore in his last outing which has been acquired by VC led product engineering firm based out of Silicon Valley. At Cognore, Sai took up the most difficult responsibility of startup new product Sales & Marketing from groundup and successfully led the growth story by creating first anchors and top 20 enterprise logos in highly competitive security market.
A true visionary who believes in the power of collobaration and sharing for an impact, Sai Krishna had the foresight to start not for profit technology community "Global Cyber Security Forum" way back in 2012 which is today the World's largest community for infosec professionals with over 22000+ members, who connect and collaborate to discuss on some of the most pressing issues in the area of Cyber Security with the objective of collective Progress.
Sai Krishna is the Chair for this Prestigious Forum and collectively drives the cause of the forum in conjunction with its eminent Advisory Board and Steering committee.